Click the Parent's Area tab for guidance on internet safety for your child.
Erdington Hall P S @ErdingtonHallPS
9 Aug RT @22Gards: Nearly at 60k followers! Will be giving away a signed pair of boots when hit 60k! Rt!
4 Jul Erdington Hall choir are rehearsing today at Ladywood ARC for their forthcoming performance at Symphony Hall http://t.co/jKVP6TlUER
1 Jul Great day at Highbury Hall today for the Ninestiles Trust Pupil Councils.
23 Jun RT @PE_stedcamp: @ErdingtonHallPS taking in the commonwealth spirit @KingsburySSP CWSD with their @Mo_Farah 'mo-bot' #inspiring http://t.co…
11 Jun Erdington hall winners of best partner school with Aston Villa for Spring term 2014!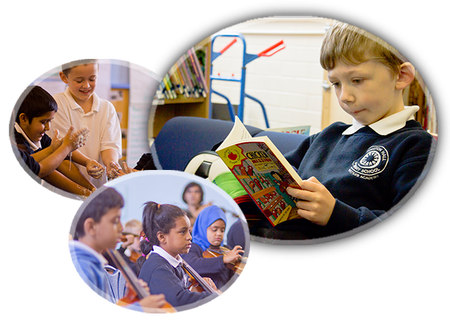 Parent Consultations
Thank you to all the parents who attended parent consultations on Wednesday to discuss their child's end of term report and celebrate their achievements. We had an excellent turn out and the whole evening was a very positive experience. If you were unable to attend on Wednesday please arrange to see your child's class teacher as soon as possible.
Road Safety
You may be aware that a child who attends our Nursery was involved in a road accident earlier this week, thankfully he is making a good recovery. We have been working with the children regarding keeping safe on the road and would like you to remind them of the general road safety rules. We continue to work together with parents and neighbours regarding safe parking and reducing congestion, we are also in discussion with the Highways Agency exploring the possibility of additional safety measures being put in place.
Wider Curriculum Activities
Tuesday we were visited by Ian Teffer, who is a nationally renowned maths advisor. Ian led workshops with the children in years 1 and 3, they were also supported by children from year 5. They worked together to solve puzzles and problems. Ian was very impressed with the children and here are some of his comments:
"I must say we are very impressed by the attitude and knowledge of your children. We go into many schools and I can honestly say your children are amongst some of the best we have worked with. All the year 5 helpers were also superb."
"Mental skills are so at the front line of their thinking – Y3"
"Y5 were giving the children clues and facilitating their learning and not taking over."
Also on Tuesday this week our cello & violin players performed a fantastic concert which was well attended by their parents/carers. We continue to be fully committed to incorporating music into the curriculum and next year the children moving into year 4 will have the opportunity of learning to play the flute, violin or cello. We also have the choir performing at Symphony Hall next Thursday as part of the Birmingham Music Service Summer Gala.
On Thursday in addition to the Symphony Hall Concert we also have a year 6 bike ride along the canal in the morning and the year 6 leavers assembly at 5pm that afternoon.