Book Fair in School until Wednesday 24th September
Erdington Hall P S @ErdingtonHallPS
2 Sep RT @NinestilesLKEN: Great talk today from @richardgerver for @NinestilesTrust staff CPD - hilarious and thought-provoking #change
9 Aug RT @22Gards: Nearly at 60k followers! Will be giving away a signed pair of boots when hit 60k! Rt!
4 Jul Erdington Hall choir are rehearsing today at Ladywood ARC for their forthcoming performance at Symphony Hall http://t.co/jKVP6TlUER
1 Jul Great day at Highbury Hall today for the Ninestiles Trust Pupil Councils.
23 Jun RT @PE_stedcamp: @ErdingtonHallPS taking in the commonwealth spirit @KingsburySSP CWSD with their @Mo_Farah 'mo-bot' #inspiring http://t.co…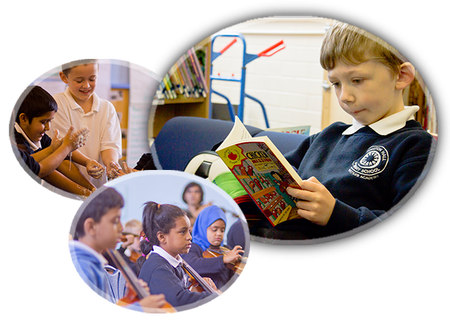 Fantastic Start to the New Term!
We are only two weeks into the new term and already everyone has settled in really well. The Reception classes have completed their first full week and Nursery children have taken the first steps on their journey through education. There is a wonderful atmosphere around school of calm, contented children engaging in their learning.
This was confirmed by Jenny Grogan from the Visual Impaired Department who visited school this week and commented:
"Thank you so much for today's visit, I really enjoyed it! What an excellent provision and what lovely staff. The children are really aware of routines already – impressive."
"Mr Hill - such excellent SEN practice! If you ever need a school testimonial – I am your woman!"
Wider Curriculum Activities
We continue to ensure that our children have purposeful and enriching experiences to support their learning.
On Tuesday of this week the children in Year 5 took part in a Hovercraft Experience. In the morning they had the opportunity to ride on a hovercraft which was arranged by Chris Daly, Chairman of the Hovercraft Club of Great Britain and in the afternoon they enjoyed a presentation by Jag Ramjee, Director of Palaform Models, who builds model hovercrafts as a hobby. They have also been building their own model hovercraft in class. This is part of the enriching curriculum we offer to ensure that the quality of writing is relevant and engaging.
The children in Year 6 and Year 2 took part in Forest School on Wednesday to support their learning within the outdoor environment in support of their literacy and science studies. This activity will continue each Wednesday for the rest of this term with different year groups.
On Tuesday of next week Year 6 will be visiting Dovedale in Derbyshire in support of their literacy and geography learning.
Symphony Hall Success Continues
Parents of the children in the Choir are invited to a repeat of their Symphony Hall performance which will take place in school on Thursday 25th September at 2.30pm. If you were unable to make it to Symphony Hall or would like to watch the concert again please come along.