Secondary Transfer Forms for Year 6 children deadline 31st October 2014
Erdington Hall P S @ErdingtonHallPS
2 Sep RT @NinestilesLKEN: Great talk today from @richardgerver for @NinestilesTrust staff CPD - hilarious and thought-provoking #change
9 Aug RT @22Gards: Nearly at 60k followers! Will be giving away a signed pair of boots when hit 60k! Rt!
4 Jul Erdington Hall choir are rehearsing today at Ladywood ARC for their forthcoming performance at Symphony Hall http://t.co/jKVP6TlUER
1 Jul Great day at Highbury Hall today for the Ninestiles Trust Pupil Councils.
23 Jun RT @PE_stedcamp: @ErdingtonHallPS taking in the commonwealth spirit @KingsburySSP CWSD with their @Mo_Farah 'mo-bot' #inspiring http://t.co…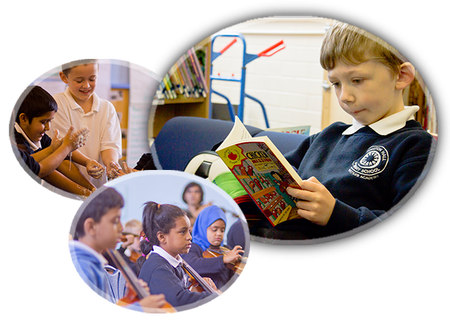 Aston Villa V Tottenham
£15 for one adult and up to three children
Next Aston Villa home game is against Tottenham on Sunday 2nd November, kickoff at 4pm. Pay £15 for one adult and three children go free. Vouchers available from the school office.
Cultural Celebrations
Our curriculum reflects the diverse nature of our school. This term we have been celebrating Eid with our class parties and Eid themed assemblies and last week we marked Black History Month by studying an inspirational person whose contribution has made a difference to our lives within our Family Groups. This culminated with a sharing assembly on Friday. Next half term we will be focusing Diwali and the Christian faith with church visits, a nativity play and Christmas parties. Our Trust Mission statement identifies that 'these celebrations recognise and respects the richness' and diversity of our community and reflected in the global dimension and international mindedness being a key driver in curricular development.
NSCoPSE Conference
Mrs Lees, accompanies by five children, spoke at the NSCoPSE Conference on Tuesday 14th about the success of our Family Group time. This was a fantastic experience with delegates attending from across the country. Our children were exceptional in their input and behaviour, well done to Abubakar Ahmed, Shan Dana, TashoiGray, Demi Griffiths and Jamal Uddin. A number of other schools are now looking into incorporating Family Group time into their school day.
Pasta Workshops
On Wednesday 15th, we held our first cookery workshop for parents. Thank you to those who attended and were shown how to make ravioli with fresh pasta made from scratch. Parents said they were amazed at how easy it was and would be making more at home with their children. Look out for more cookery workshops in the future.
World Food Day
Thursday 16th was World Food Day. As part of our care in the community involvement we are supporting the Erdington Foodbank who endeavour to try and alleviate some of the distress and difficulties experienced by many local people who are struggling to make ends meet. If you would like to help, please bring your food donations to school and we will pass them on to the Foodbank.
They are happy to receive any non-perishable, in date donations but the key items they run short of on a regular basis are:
•Tinned fish •Tinned Rice Pudding •Tinned custard •Long grain rice •Long life fruit juice •Biscuits •Nappies •Baby food •Toiletries
Y6 Visit to Brookvale Park
The children in Year 6 visited Brookvale Park on Wednesday as part of their curriculum enhancement and sensory work for their poetry unit. We look forward to reading the poems that they will be writing over the next few weeks.
VIP Visit
On Tuesday 21st , we will be visited by Sir Dexter Hutt, Trustee of the Ninestiles Academy. He will be meeting with Miss Phillips and Mr Collin will be accompanying him on a learning walk. We look forward to meeting him and are very excited to show him around our school.